WhereTheMapEnds Store
Thank you for visiting the products page at WhereTheMapEnds.com. I'm very excited about these items and hope you find them useful.
The Art and Craft of Writing Christian Fiction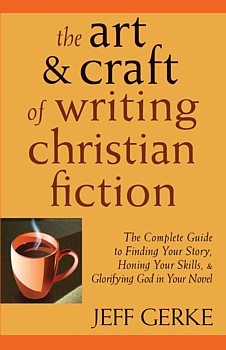 This book contains all the wisdom of my Fiction Writing Tips in a form you can take with you wherever you go. Here's what bestselling author Donita K. Paul has to say about it:
I teach workshops on writing and am glad to add Jeff's book to my list of recommendations. I liked it so much that I bought several to give as gifts to my writing friends. Now what better praise is there than that!
You can purchase The Art and Craft of Writing Christian Fiction. It is also available in print or Kindle form from Amazon.
How To Find Your Story
This book begins with what you do best—character creation—and grows the plot from your main character's inner journey.
Get the writer's help that published Christian novelists are calling "Genius!" and "like a brilliant author and editor at your elbow, helping you plan your story."
Multi-award-winning novelist Deborah Raney says, "I can't say enough about this wonderful system!"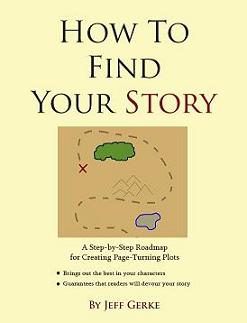 How to Find Your Story arrived just in time. In my wakeful dreaming, I'd created characters to engage my time for the next year, but the premise I'd concocted didn't propel me into an engaging story. Jeff Gerke's How To Find Your Story mentored me through the development process with understandable word pictures of the inner journey and the moment of truth—and all the other balls a novelist juggles to build a story, some I'd never considered. How To Find Your Story made the plotting process painless, and I'm incredibly excited about the journey the story will take me on--all thanks to Gerke's experience and irresistible voice.
Character Creation for the Plot-First Novelist
What is a plot-first novelist? Someone who can think up fantastic plots like nobody's business but to whom three-dimensional characters come slowly or not at all.
I'm one of those. My early, unpublished fiction was high on interesting action but featured characters who were nothing more than cardboard cutouts I moved around the stage to be there when the truck blew up.
I know I'm not alone, too. As an acquisitions editor and now as a freelance book doctor I see this all the time. The story and premise are interesting, but the characters are flat and impossible to tell apart.
It was for writers like that, writers like me, that I developed this system.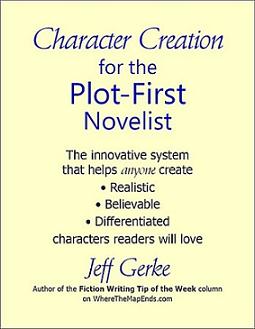 Character Creation for the Plot-First Novelist begins with a character center and then adds layers in a logical fashion, coming at character creation from a variety of angles—everything from how we perceive people in real life to how the character is (or isn't) impacted by the love of God.
The result is something the plot-first novelist may've despaired of ever being capable of: living, fully realized, interesting characters who are a joy to write and memorable to read.
This is the system I wish someone had given me when I was starting out. Here's what Gary Varner, author of The Great Hour Struck, has to say:
I'm not a tool and chart kind of guy, but this system really worked for me! Before I found this system my characters seemed vibrant, alive, and likeable—in my head. Unfortunately readers (and acquisitions editors) couldn't go into my head, and a couple of my most important characters failed to come alive in my manuscript. Jeff Gerke's "Character Creation for the Plot-First Novelist" system gave me characterization solutions and suddenly my characters sprang to life. I found the use of the Myers-Briggs temperaments, character love languages, and the character monologue exercises especially helpful. In the future I plan on using this tool before I send proposals to acquisitions editors.
What's So Great About It?
Character Creation for the Plot-First Novelist takes the mystery out of creating characters for fiction.
You know what I'm talking about: those other authors who say "The characters just came alive and started telling me what they were going to do," or "I was just a reporter following them around and writing down what they did," or "I couldn't wait to get to the keyboard to see what they were going to do next."
I don't know about you, but I've never had that happen to me. I'm sure it must happen for many, many writers. Those are the ones for whom character creation comes easily.
But what are the rest of us to do? When I let characters just do their thing in my stories they tend to do things simply because the plot needs them to do it, and that's no good for fiction.
What comes easily for some writers comes only with difficulty and work for me and writers like me.
Character Creation for the Plot-First Novelist provides a logical, sensible method for working up believable characters. No mystery; just a reasonable system of layers that results in good characters.
On my writer's bookshelf I've got more books on creating characters than on any other topic in fiction. But in all that searching I never found a method that worked for me. Possibly because those books are often written by people for whom the task of character creation comes naturally.
So it's back to my earlier question: what about the rest of us?
Character Creation for the Plot-First Novelist begins with a core personality type and then adds onto that from seven major angles. The whole system culminates in a monologue you'll write that shows you (sometimes quite surprisingly) that you fully know who this character is and what he or she acts, dresses, looks, and—most importantly for fiction—talks and thinks like.
The Components
Character Creation for the Plot-First Novelist is comprised of three main parts:
The document explaining the system

CharPick—the software utility used in the system

The printed booklet with core character information

Items 1 and 2 can be purchased separately or together.
Item 3 is purchased separately. The booklet, called The Sixteen Types, is available only directly from the publisher.
That booklet is an excerpt from a larger book, Please Understand Me II by David Keirsey, which is available through Amazon.
Either the book or the booklet is sufficient for the system, but one or the other is essential. The book has tons of great information for fiction authors, but the booklet has everything you need to work Character Creation for the Plot-First Novelist.
Further Information and to Order